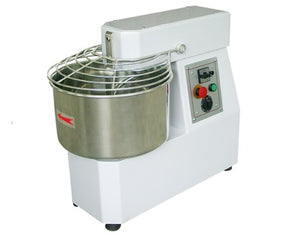 Spiral mixer JFM Fix bowl single phase single speed pizza dough mixer
Chassis constructed by 4mm to 8mm thick hot rolled steel with welding assemble.
Powder coating surface finishing with white color to meet European customer priority.
S steel bowl, Safety Grid, dough divider and mixing spiral.
Universal gear box and chain transmission system.
Easy service access to motor and gear box by uplift motor and gear box.
Strong motor with specially selected silent gear box. All machines pass limitation of 70 dB max. noise level.
24V Low voltage control box with emergency stop, 30 minute timer, push start button, main switch and 2 speed option switch
Non- Voltage release electrical safety operation design with motor overload automatic protection.
Easy Electrical control box service system. Just plug in and out to replace new control box.
Wooden case packing with quick release design. Just take out the machine operation without using any special tool.
Locking wheels are available as option.
CE and RoHS certification by Factory with Declaration of Conformity and Self statement certification.
Model

Dimension & net weight

Capacity  & Power

 bowl Capacity

JFM10

280x540x550cm 42kg

6kg  0.75KW

10 Liter

JFM20

700x400x620cm 85kg

10kg  1.5KW

17 Liter

JFM25

720x400x620cm 87kg

16kg 1.5KW

22 Liter

JFM30

820x450x720cm 118kg

22kg 1.5KW

33 Liter

JFM50

840x500x720cm 125kg

32kg 1.5KW

42 Liter

JFM60

880x550x720cm 130kg

38kg 1.5KW

53 Liter

 Common feature:

 Spiral speed : 98/196rpm  Bowl speed: 10/20rpm 

 Voltage : 220v50hz1phase / 230v50hz1phase / 240v50hz1phase option

 Apply water ratio :  1 kg flour to 0.6 kg water

 Attached with 4 castor with locker